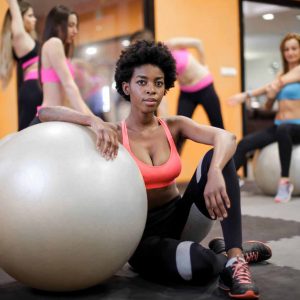 Multi-unit franchisee owner, Manish Gupta, of Anytime Fitness found value with installing the ez plus app. Gupta uses the app for new member introductions, community building, and in-store marketing. ez plus offers free fitness center digital signage exclusively for the Apple TV.
Thanks for working with us Manish.
If you're interested in using the ez plus app with Apple TV then click here.
Below are tips for using digital signage at fitness centers.
1. Member updates
When members are spinning, on the treadmill, or between sets you have the perfect opportunity to inform, educate, and entertain them. With fitness center digital signage, clients can be given inspirational fitness tips, health, and well-being tips as well as workout suggestions.
A variety of content can be displayed to inform your health-conscious clients. A good mix of content is crucial to keep their interest. It can come in many forms such as animated graphics, slides, 3D graphics, live feeds, video, and images. Some examples include: streaming instructional or training videos, showing weather, traffic and emergency alerts, safety information, etc.
2. Getting social with digital signage in gyms
Use photos like Manish as a type of social media to create a sense of community. By using digital displays, you can showcase your fitness center's social media feeds. A live Twitter feed enables clients to see recent posts. Clients love sharing info about specialty classes they just attended, such as Pilates or kickboxing; and they are giving you free advertising in the process.
3. Promoting upcoming events and special offers
You can customize your messaging and keep your clients informed about upcoming events. For example, you're holding a Cycle for Survival for charity – promote it on the screens facing the treadmills and most gym-goers will see the information.
If you have a special deal coming up, such as a discounted fee for certain classes for the month or a free drop-in class, you can make clients aware of it on the digital display. Loyalty or membership programs can also be promoted all around your facility.
4. Games and competitions
Digital displays offer you the opportunity to gamify workouts. Give clients competitions and games where they can compete and win. These can come in the form of logging calories burned or progress made. When clients compete, they become more engaged and more loyal to your facility. They will be excited about attending the gym to attend more classes or increase their reps.
Perhaps you could give out special T-shirts for clients who have attended over 100 classes, and they can easily keep track of how many they have attended already on a leaderboard.
5. Awareness through Digital Signage
Safety is an important aspect in a fitness center. A digital display provides a perfect way to show exactly how to use a certain machine or to offer tips on how to avoid injuries from doing an exercise incorrectly.